Pre-final DESIREE project meeting in the LIMICS premises in Paris, France on March 27-28 2019.
Being officially in the extension period which was granted to DESIREE project, the DESIREE Consortium members were gathered in Paris on March 27-28 2019 for a Plenary F2F meeting, combined with a special Workshop with various stakeholders on exploitation.
The first day of the meeting, 27th March, was dedicated to a general project overview, discussing the tasks which run till the end of the project: validation, exploitation, IPRs, dissemination and various coordination topics.
A lot of attention was given of course to the technical and clinical validation results from the DESIREE platform and modules, detailed feedback on which was provided by the relevant team members. The feedback from the actual intended users during the simulated BUs is noted in detail and analyzed.
On 28th March, the French team of the DESIREE Project Consortium, representing Assistance Publique – Hôpitaux de Paris (AP-HP) and INSERM Institute organized the DESIREE 360o Breast Cancer Workshop. With the objective to showcase the DESIREE project and explore opportunities for the advanced decision-support platform for primary breast cancer, they brought together representatives from: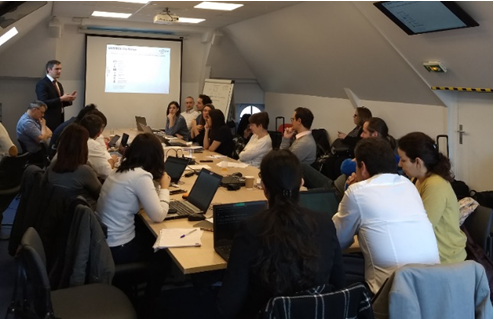 - Pharmaceutical industry, and particularly 5 top pharma companies leading BC treatment
- Clinicians with year-long expertise in BC
- Policy makers and influencers in BC management
- Technology experts from the AI, big data and decision-making support field
- Patient Association & Advocacy group representatives for BC
- DESIREE Project Consortium members
- Other external participants (e.g. Oncologists, Nurses)

For a detailed report on this very original Workshop, please click here.